I am Jesusana Hasegawa = in short call me "Ging". I've been living in Kofu for 20years,and since then cooperated with the Philippine community. As an acting leader for the year 2016~2017;kindly don't hesitate to ask any information concerning the church activities.
  Yoroshiku onegaishimasu
Ging Haseawa(長谷川ギン) TEL.090-4391-5524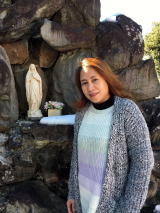 Community Activities
Bible study every month at Kofu church.
Monthly Perpetual Help Novena ,every first Wednesday at 6:00pm in Kofu church.
House to house Evangelization, praying Rosary.
Conducting Seminars for Baptism.
Twice a year Recollection ( Lent and Advent )